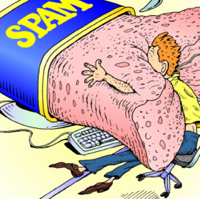 Ok folks, we screwed up. When posting last week there was one artist's submission that accidentally ended up in our junk folder… I blame the spam creators out there. Oh, and Microsoft. And Obama. Anyway, in order to set things right and keep things fair, we've decided to start the voting over… Here is
all
the art and the new voting poll. I hope that this doesn't happen again… we'll be much more vigil to check the junk folder before posting next time.

New voting is now open for last week's submissions for
Please cast your votes at the end…
………………………………………………………..
Chocolate Thunder:






Dana:






DANimal:






Dave Wellman:






Wurm:
Here's the new voting thang...
Voting will close at the end of the day on Wednesday...
Added missing artist... vote for all your faves...